Girl Scouts Western Oklahoma is all about breaking barriers for girls, especially within careers dedicated to science, technology, engineering, art and math (STEAM). This 100-year old organization provides opportunities and learning experiences girls might not otherwise have, while encouraging and challenging tomorrow's female professionals to reach for the stars.
Women in STEAM
As the daughter of a nurse, I saw firsthand the importance of introducing STEAM concepts to girls from an early age.
Now, I am a woman in STEAM myself, working as a petroleum engineer. I see the struggle of women entering a male-dominated field, so I know it is vital for women to model careers for young girls, who may be unaware they can pursue a career in STEAM.
That is where Girl Scouts comes in. Girls Scouts fosters a unique foundation to help girls reach to the outer limits of their potential and gain access to life-changing education, experiences and information.
The butterfly effect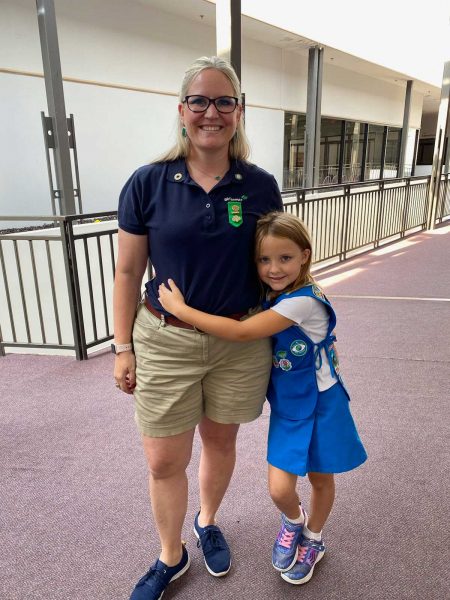 Recently, I had the opportunity to observe a Girl Scout troop meeting at an underserved elementary school, where the volunteer troop leaders are teachers or counselors at the school.

During the session the girls created tissue paper butterflies. They decorated the insects and watched as their troop leader used a balloon to create static and made the butterfly wings flap with the electricity from the balloon. 
At that moment, it hit me that these girls, at age 8 or 9, were watching in amazement, learning about static electricity for the first time. Maybe it's a lesson they hadn't gotten to in school yet, and wouldn't until later in their education. Now they're getting to learn about it in a memorable way, with a small group of other girls while they're still young enough to appreciate the wonder of a balloon making tissue paper move.
Young girls learn best when in a group of other girls — there's no pressure from the boys taking charge and girls can see other girls leading in situations where they might not get to in a co-ed group. Modeling leadership for young girls is an important part of teaching them they can be anything they want to be.
Alongside that, it is imperative that girls are exposed to STEAM concepts from a young age. Without the aid of Girl Scouts, many young girls do not begin their STEAM education before it has become uncool for them to have an interest in STEAM. Girl Scouts helps introduce these concepts from a younger age, while making them interesting and exciting.
Wall of Women
At Girl Scouts Western Oklahoma, we are taking active steps to create positive learning environments for young girls to learn about STEAM.
Through Camp Trivera, our brand-new campground located in Oklahoma City, our goal is to reach girls of all ages and provide programs in life skills, leadership, outdoors and of course, in STEAM.
When building Camp Trivera, the Girl Scouts organization worked with girls to build the best camp experience possible. One addition to the camp is the Wall of Women, an interactive screen located on the campgrounds where girls can learn about and see women in STEAM leadership roles around the world.
Girls can click through the LED screen and watch videos from women who have achieved goals and dreams, and learn about leadership and STEAM from real-life stories.
When girls interact with the Wall of Women at Camp Trivera, they see real women model potential career goals, reinforcing the idea that girls can achieve anything they set their minds to.
Girl Scouts is reaching girls, opening doors and transforming lives.
To learn more about getting involved in Girl Scouts, visit us online. You can read more about how we are incorporating STEAM in our curriculum.