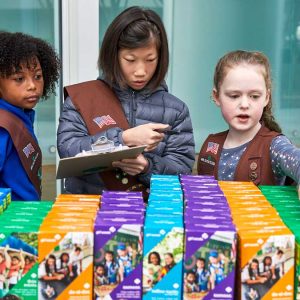 In 1917, The Mistletoe Troop based in Muskogee, Okla., baked and sold cookies as a service project for Girl Scouts. …
Continue >
Girl Scouts Western Oklahoma is all about breaking barriers for girls, especially within careers dedicated to science, technology, engineering, art and math (STEAM). This 100-year old organization provides opportunities and learning experiences girls might not otherwise have, while encouraging and challenging tomorrow's female professionals to reach for the stars.
Continue >
At Girl Scouts Western Oklahoma, we know the importance of mental health — especially for our girls. From 2011 to 2017, major depression among teen girls increased from 12% to 20%, according to theconversation.com. The rate of 10 to 14-year old girls admitted to emergency rooms after deliberate self-harm is on the rise as well, according to jamanetwork.com.
Continue >
Cookies, campfires, and bracelets are all part of the journey, but changing the world? That's the real destination! One adventure at a time, Girl Scouts learn, grow, and do amazing things. Unleash your inner leader.