When Girl Scout Ambassador Victoria Heyvaert learned that one in eight women are diagnosed with breast cancer, she knew she could do something to help. That's when she was inspired to center her Gold Award project on creating comfortable non-medical prostheses for women who have undergone mastectomies, an operation to remove a breast.
"I feel that addressing breast cancer is such an important issue because breast cancer is so prominent in our society," Heyvaert said. "There is always a need that can be addressed — possibly a need you wouldn't even think of unless you are going through treatment."
Heyvaert then began the process of starting her project, Crocheting for Comfort. Through her Gold Award project, Heyvaert created a crocheted prosthesis she called Crocheted Cleavage.
The prostheses are made with optimal comfort for the wearer in mind.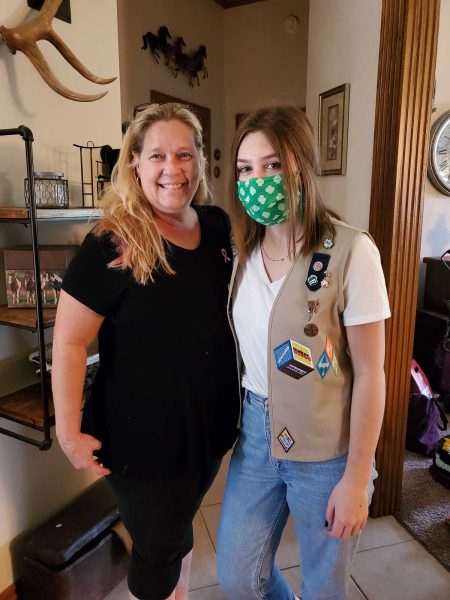 "The prostheses are crocheted with love using the softest yarn option, typically cotton," Heyvaert said. "The softest yarn is chosen due to the sensitivity of the affected area."   
The Crocheted Cleavage is created, then stuffed with polyfil, and can be worn inside a typical bra. It's an inexpensive, simple and comfortable way for women to feel more confident in their bodies after breast cancer.
Heyvaert worked with Breast Cancer Survivors of Oklahoma to get Crocheting for Comfort rolling.
"Once the Crocheted Cleavage prostheses are completed and packaged with a care and instructions sheet, they are donated to Breast Cancer Survivors of Oklahoma, which then distributes them to women in need," Heyvaert said.
Now Heyvaert's project lives on through the nonprofit. Breast Cancer Survivors of Oklahoma will continue to distribute her Crocheted Cleavage even after her formal Gold Award project has ended.
"I will still check in from time to time to see how the project is flourishing," Heyvaert said.
Throughout the work on her project, Heyvaert has grown and learned a great deal. She said she is also grateful for the relationships she created through her Gold Award.
"There are stories out there, and circumstances people go through that you cannot imagine," Heyvaert said. "Always be thankful for what you have. I am very thankful for the opportunity to connect with new women and make a change through this project!"
Heyvaert received her Gold Award during a ceremony on June 26, 2021, alongside many other Girl Scouts. Her project, like others, will continue to grow and inspire others.
Heyvaert is thankful for the opportunities her Gold Award project has offered to her.
"I believe Gold Award projects are an important part of Girl Scouts because it gives young women a chance to make a change and address something they are passionate about," Heyvaert said.
Congratulations to Heyvaert and all the young women of Girl Scouts Western Oklahoma who received their Gold Award this year!
Heyvaert is a Girl Scout Ambassador in Troop 516 of Guthrie, Oklahoma.